Description:
For the angler(s) that have heard about the rewards of one of the greatest gamefish around, we are proud to offer guided fly fishing trips for carp. Fortunately, the greater Denver metro area offers some of the finest carp fly fishing in the country! Carp are a wary, intelligent fish and present the angler with unique challenges. It takes patience, persistence, stealth, and skill to get them hooked up. A guided carp fly fishing trip is a wise investment to help you learn to successfully fish to them. The reward? Fish measured in POUNDS that have no trouble ripping into your backing! Trips are a minimum of six hours in length and normally span multiple locations.
The Denver South Platte (DSP)
The DSP offers some of the largest carp in the area, and some of the wisest.  Carp fly fishing has a dedicated local following, putting pressure on the fishery.  The extra element of river current adds to the challenge of fooling these fish.  But again patience, perseverance, and respect for the fish will pay off in time.
The Denver South Platte is truly an urban fishery, cutting right through the heart of the city.  Parts of the river have undergone restoration, and work continues to bring back the resource.  Denver's temperate winters don't allow the river to freeze over, and the carp that inhabit it will feed throughout the year.  This allows for good growth rates and some BIG carp!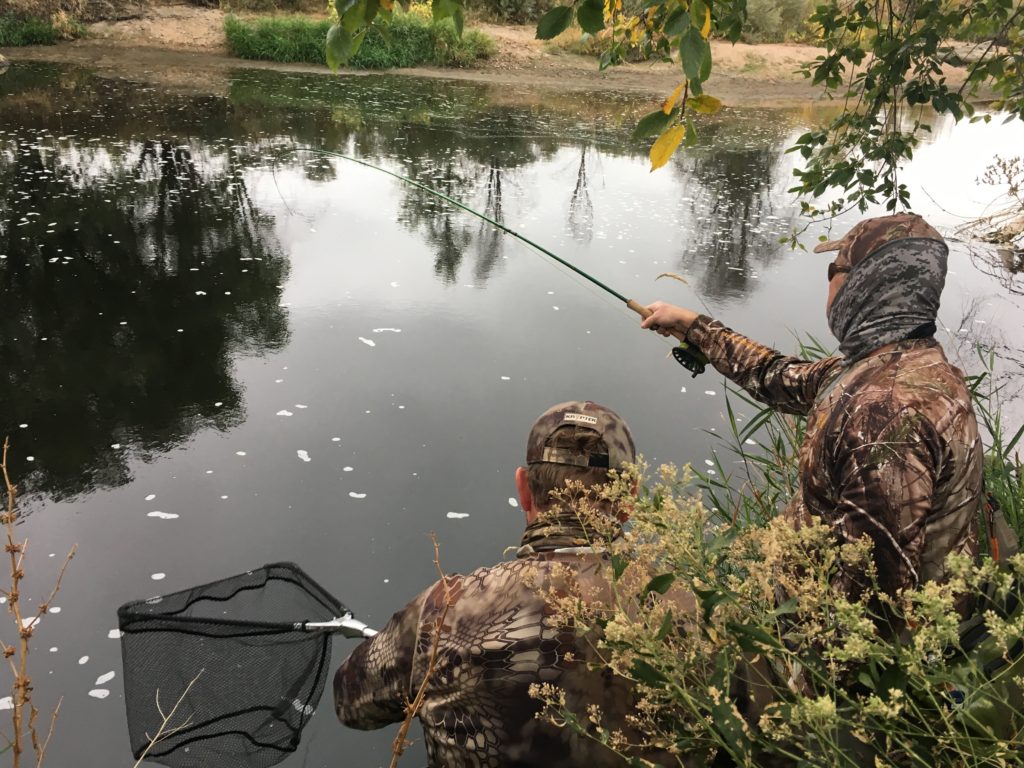 The South Platte through Denver, Colorado is also the competition proving grounds for the famous South Platte Pro-Am Carp Slam.  The tournament was started as a way of helping promote restoration, improvement, and usage of our local waterway in 2007. Professional and amateur anglers get together at the end of each summer in randomly assigned two-man teams to stalk carp right through the city. Guide Chris Galvin has won the tournament FIVE times! (2015-2018, 2020)
It's not well known that the South Platte through Denver is a year-round fishery for carp, smallmouth bass, and even trout. In the cooler months, the best days are during a warming trend. Give us a call, or quick email to inquire about current conditions.
Lakes and Reservoirs
Within an easy drive of downtown Denver, you can find an array of lakes and reservoirs holding large carp.  Stillwater carp season typically runs from mid-March into October.  Typically, we stalk the margin of the lakes looking for targets.  Ideally you'll find happy carp tailing, already on the feed.  Other times, wading can be productive.  The guides know the area lakes and the best ways to approach them.
Stand Up Paddleboarding (SUP) Carp Fly Fishing
Turn up the degree of difficulty a few notches and chase the big boys from a stand up paddleboard!  Over the past few seasons, we've been exploring new areas for carp on the board.  The SUP allows you to access fish that would be difficult or impossible from shore or by wading, while still allowing for stealth and angler visibility.
Paddleboarding experience is helpful and recommended before taking on this trip.  To give you a better idea about this experience, check out these videos from Fly-Carpin.  The website features a myriad of articles, tips and videos about carp on the fly.
Colorado Fishing Licenses:
Colorado fishing licenses are required for all anglers aged 16 or older.  These are not included in any trip costs, and must be purchased ahead of time.  Normally a one-day or five-day pass suffices, but the annual may make sense if you're going to be fishing in the state (or with us!) again.
Purchase online at the Colorado Parks & Wildlife website
Purchase by calling t

oll-free 1-800-244-5613.  You will need a driver's license and credit card for this method.  Upon completion, the agent will give you a code to write down (or record in your phone) and bring with you.  The code serves as you license for the day(s).  It's easier than it sounds and can be done from anywhere.
Transportation:
Your guide will either meet you at a predetermined location or we can arrange for pickup. Ask about pick-up and drop-off options at the time of booking. We're more than happy to help get you to the fish from your downtown Denver hotel or other metro locations.
Rates:
$495 for one or two anglers. Normally only one angler can be guided and actively fishing at a time.
Payment:
Payment in full due at time of booking
Payments can be made by Visa®, Mastercard®, American Express®, Discover®, PayPal®, or cash.
It is customary in the fly fishing industry to tip your guide on the day of the trip